Porcelain Veneers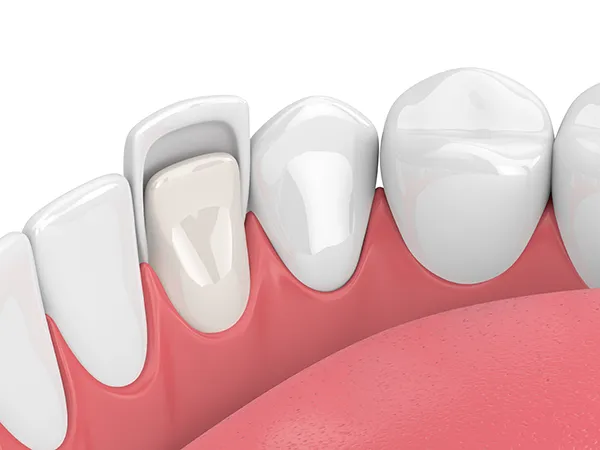 Your teeth play several important roles. They allow you to bite and chew your food properly. They help to control the airflow when you speak, which allows you to be understood. One function that often goes unacknowledged is their aesthetic role. Your smile is often the first thing that others notice about you. Even minor flaws in your teeth can be enough to make you feel self-conscious. At Alder Family Dental, we are here to help. If minor dental imperfections are keeping you from flashing your less than perfect smile, we can restore it with porcelain veneers.


Covering Imperfections

Veneers are thin, shell-like dental restorations that are bonded to the front surface of teeth that have minor imperfections, hiding them underneath. Veneers can be made from composite resin or porcelain. We strive to provide you with top quality care and veneers that are effective, natural and long lasting, so porcelain is our material of choice. Porcelain offers numerous benefits. First, it can be made to match the color of your surrounding natural teeth, with the help of a color-matching guide. It is also fairly strong, and has the ability to last up to 20 years or more with proper care.


What Can Veneers Fix?

Our porcelain veneers can be used to cover over a number of different minor flaws in your teeth. Such flaws include:

| | |
| --- | --- |
| • | Small cracks or chips in your teeth. |
| • | Natural gaps between your teeth. |
| • | Teeth that have experienced uneven wear. |
| • | Discoloration that cannot otherwise be whitened, even with professional whitening treatments. This includes discoloration due to trauma and even discoloration that has been present since your permanent teeth have come in. |
Getting Your Veneers is Easy

Before you get your veneers, we will first have a consultation with you to help determine if they are truly the best course of action. If the answer is yes, we can begin the process, which takes two visits. During the first visit, your tooth, or teeth if you need more than one, is prepared. We remove a thin layer of enamel, which provides enough space for the veneer to fit naturally in among the rest of your teeth. Next, we will take an impression and use our color guide to match the shade of your teeth. This information is sent to our laboratory, where the veneer will be created, a process which takes one to two weeks. If necessary, we will provide you with a temporary veneer while you wait.

Your second visit is when we apply the veneer. However, before we set it, we check it for proper fit and to ensure that the color matches. If everything looks good, we use an acidic gel to create a rough surface on your prepared tooth. The rough surface allows the bonding material to have a better hold. We clean off the gel, dry your tooth and cement the veneer in place. When you smile, no one will ever know that you had any imperfections, or that there are veneers covering them over.


Veneer Care

Care for your veneers is no different than care of your natural teeth. Despite the fact that veneers cannot experience decay, they can still host plaque and support bacterial growth, so you must continue to brush your teeth at least twice a day and floss daily. And don't forget your twice-yearly visits to our office for cleanings and exams, where we can help aid in your oral health and check on the health of your teeth and the condition of your veneers. You should avoid biting or chewing on anything exceptionally hard, including popcorn kernels, ice, writing instruments or your fingernails. Doing so could lead to cracks or fractures that would require a replacement.

If your teeth have suffered from a minor imperfection, and you have found yourself giving tight-lipped grins, porcelain veneers might just be what you need. Call us at(509)-525-9474 today to schedule your consultation.