Cosmetic Dental Bonding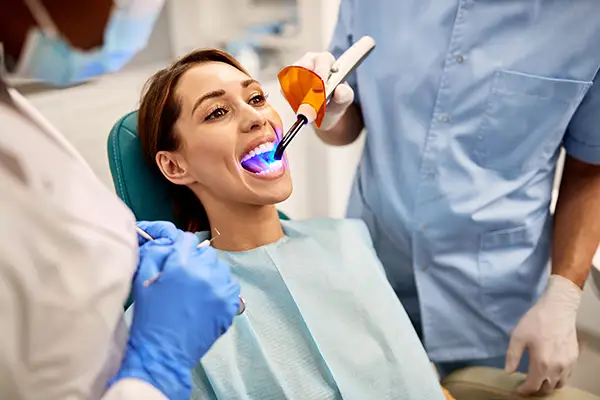 Keeping your teeth looking and feeling great can prove to be quite the chore. After all, even if you take proper care of them and maintain a high level of oral health, there are still things that can stain your teeth or even cause them to chip, leaving you with teeth that are perhaps healthy but do not look the way you'd love your teeth to appear. If you're looking for an affordable way to achieve the smile of your dream, Alder Family Dental can help! We offer an affordable procedure known as cosmetic dental bonding, and it can help you with all of your dental aesthetic needs.


What is cosmetic dental bonding?

When it comes to ensuring that your smile looks as great as it feels, there are a variety of options out there. One of the most popular and most commonly utilized options out there is the cosmetic dental bonding procedure. In this process, a composite material that is matched to the color of your teeth is applied to the tooth's surface. We then take our time to carefully shape the composite to create a realistic looking tooth, and then allow the composite to harden. Once the material has set, we can polish the composite and send you on your way! The result is a tooth that looks natural as well as lovely.


When do I need cosmetic dental bonding?

Cosmetic dental bonding is a good option for a number of patients who are looking for help with some simple dental issues. If you have teeth that are stained, for example, and for some reason they do not respond well to teeth brightening procedures, then you might be interested in cosmetic dental bonding to help restore the natural, bright shine to your smile. This is also a good option if you have a tooth that is slightly misshaped or perhaps even has a small chip in its surface. Cosmetic dental bonding can quickly and thoroughly fix the issue and remain in place for many years to come.


What are the benefits of cosmetic dental bonding?

There are a variety of reasons that convince patients to select cosmetic dental bonding over other options like porcelain veneers. For one, dental bonding is a much quicker procedure than something that is more involved like dental veneers. Cosmetic dental bonding is not an invasive procedure and does not take much time at all to complete, meaning that you can sometimes get through the process without even using any anesthetic. Dental veneers, on the other hand, require multiple visits and the use of local anesthetic to numb the area in question. Cosmetic dental bonding is also a much more affordable path to the perfect smile than dental veneers, which can quickly become quite expensive, especially if you are looking at getting more than one of them.

To learn more about cosmetic dental bonding and how it can help you find the smile that you would love to have, give us a call today at (509)-525-9474! We will be happy to schedule an evaluation with you and discuss your dental goals.