Invisalign®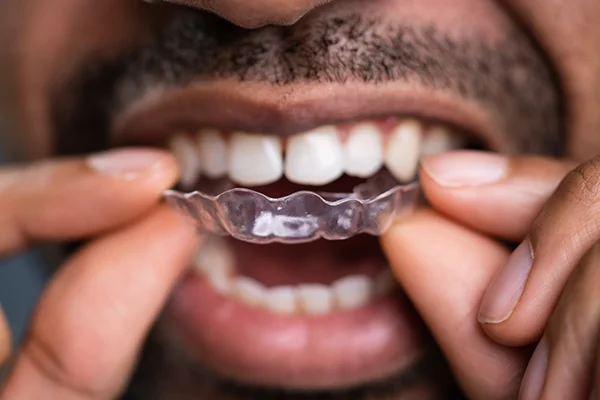 At Alder Family Dental, we can straighten your teeth with a modern twist of the classic braces. No metal, no brackets, no wires, and best of all, no one will know. our dentists can improve your look without anyone knowing, helping you keep your professional look. Research through Invisalign® has shown that if done by a trained professional, Invisalign® can be just as effective as metal braces. Most patients get the look they want in about one year.


What is Invisalign®?

Known for being clear aligners, Invisalign® is a series of multiple, clear, medical grade plastic molded teeth, that have been customized to fit your mouth. During the planning sessions with our dentists, we will create a digital image of your teeth in their current position and then in the position that you desire. We then order multiple aligners to be made, with each one having small incremental movements toward the end result you are looking for. The patient will wear each aligner in the series for the designated time, usually about two weeks. In order to be successful, the patient will need to wear the aligner for at least 22 hours per day, though going without them for the rare special occasion will be ok.

Patient's love Invisalign® because it is virtually invisible when worn. For years, orthodontists and dentists have used removable appliances similar to this idea, commonly known as retainers, to keep teeth in place or for limited treatment. Today, with the application of computer technology, modern software, and custom manufacturing, Invisalign® treats a broader range of cases with greater precision. This is ideal for adults, and increasingly gaining popularity among teenagers.


Invisalign® Technology

This system uses 3-D computer imaging technology to create the complete treatment plan, starting with your current teeth position, to the final desired position. With this imaging, a dental lab that specializes in Invisalign® creates a series of custom-made clear aligners. Each aligner will move your teeth in small increments and is worn for about two weeks. After two weeks you will just simply go to the next aligner in the series. Less time at the dentist office, less time in the chair, Invisalign® saves you your most precious commodity, your time.


Removable and Comfortable

One of the biggest frustrations with most patients who wear metal braces is that they are difficult to keep clean, and you can't remove them while you eat. Unlike braces, you can eat and drink what you want during treatment, because you can remove the aligners. You can also brush and floss normally, helping you maintain good oral hygiene. This modern take on braces will give you a reason to smile.

We are happy to answer all of your questions about Invisalign®. We can straighten your teeth privately, comfortably, and with less time in the dentist chair. For more information, contact us at (509)-525-9474.