Dental Bridges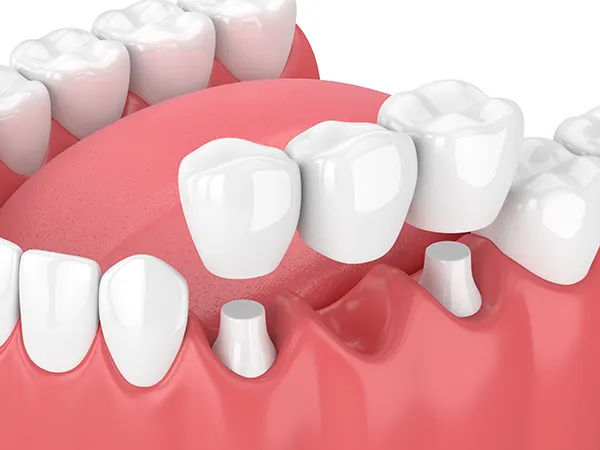 Dental bridges are fixed appliances that can restore the structure and function of your teeth after tooth loss. These appliances are non-removable, so they are cemented into place and will become a permanent part of your smile. There are many different types of bridges, and our team can help you choose the option that is right for your unique dental needs.

A traditional bridge is made out of metal and porcelain and is the most common type of bridge used to replace missing teeth. A bridge consists of a crown on each end that slips over the anchor teeth to support the prosthesis. These crowns are fused to the pontic teeth which are suspended in the air to replace the missing teeth. Once cemented into place, the bridge prosthesis then fills the gap that was created due to tooth loss.


Reasons for Choosing a Fixed Bridge

There are numerous reasons that you might choose a fixed bridge to correct your tooth loss:

| | |
| --- | --- |
| • | Restore the smile |
| • | Improve your ability to speak and chew normally |
| • | Maintain your normal face shape |
| • | Fill in the spaces left by missing teeth |
| • | Prevent the remaining teeth from shifting positions |
| • | Upgrade from removable dentures |
Getting Your Fixed Bridge

The process of getting your bridge will generally require at least two appointments. The area to be treated will first be numbed to keep you comfortable throughout the procedure. Next, the anchor teeth will be prepared by having a thin portion of the enamel removed in order to make room for the abutment crowns. Impressions will then be taken of your prepared teeth to be sent into a dental lab, and the permanent bridge will be fabricated at the laboratory. After the impression, a temporary bridge will most likely be fabricated for you to wear until your follow-up appointment, typically about two weeks out.

At your next visit, we'll remove your temporary bridge, and the new bridge will be checked for proper fit. Once it is determined that the appliance is ready, it will be permanently bonded or cemented into place.


Caring for Your Dental Bridge

Bridges are created to be highly durable, and with proper care, they can last for many years. Even with normal wear and tear, bridges can break down over time requiring replacement, so it is important to adhere to your recommended recare schedule. This ensures your appliance remains in top shape and catches any issues before they become large problems. You should also be sure to brush and floss properly every day in order to keep your remaining teeth healthy and avoid future tooth loss.