Vaping and Your Teeth: What to Know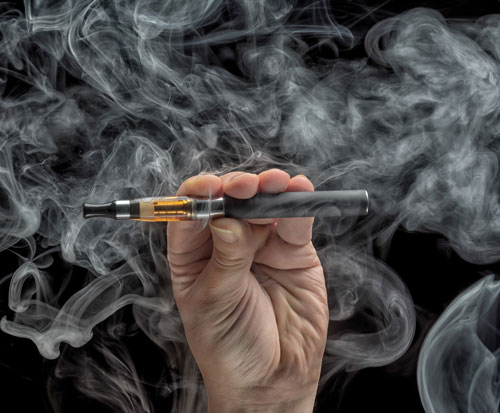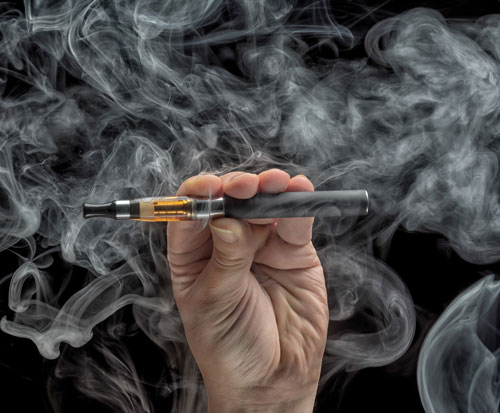 Vaping can result in many disastrous effects that can compromise one's health and longevity. These side effects can be painful and unattractive, and if left untreated can lead to bone and tooth loss. To better understand the consequences that electronic cigarettes have on teeth, a conversation with your dentist can give you the necessary information to make educated choices about the use these products.

Periodontal Symptoms:

Understanding the potential consequences of periodontal disease caused by electronic cigarette use could make you think twice about partaking. The nicotine commonly used in electronic cigarettes can cause the gums to recede. This happens because the burning nicotine vapor reduces the amount of oxygen soft tissues in the mouth receive, resulting in inflammation. This causes symptoms of periodontal disease such as halitosis, tender and swollen gums and bleeding and loose teeth, which all may cause the gums to recede and puts long term oral health in jeopardy.

Gum Disease:

Because nicotine is a vasoconstrictor, reducing the amount of blood that can flow through your veins, it causes gum tissue to die. This can lead to gum disease, which is a serious cause for concern. Gum disease can worsen conditions such as diabetes by distributing bacteria throughout the bloodstream to other parts of your body. Furthermore, nicotine vapors decrease our natural ability to fight against bacteria, which enables infection and decay to spread throughout the mouth.

More Bacteria:

Teeth that have been exposed to e-cigarette aerosol have more bacteria than those that have not been exposed. Studies have found that this difference is greater in the crevices, which can lead to excess bacteria associated with plaque accumulation, tooth decay, cavities, and gum disease. Such complications can cause DNA damage as it prevents cells from dividing and growing, which can result in cell death. This kind of irritation and inflammation can lead your dentist to assess whether or not gum disease is a concern.

Dry Mouth:

An additional adverse affect of liquid vapors such as propylene glycol (PG) is mouth dryness. This is because PG is a hygroscopic chemical that causes water molecules in saliva to dry up. Chronic dryness is associated with bad breath, mouth sores and tooth decay. This decay can cause deep pockets that indicate a breakdown of the attachment of the gums to a tooth. A dentist should be consulted every 3 months to monitor damage to prevent gum recession and tooth loss.

Grinding:

An additional negative side affect of nicotine use in electronic cigerettes is grinding. Nicotine is a muscle stimulant, making a user grind more intensely if they are already a grinder. It could also instigate non-grinders to start this habit, which can cause damage to the tooth and jaw.

Prevention:

The best way to avoid the adverse effects of vaping is to abstain from using. But for those who do use, frequent check-ups are essential. During the first visit to Stone Creek Dental Care in Walla Walla, patients will receive a consultation to discuss what brought them in. Any relevant diagnosis will be reviewed and treatment options explained. Give us a call to schedule an appointment to discuss any concerns about vaping and your health, or just stop by our office near Downtown Walla Walla.