Do Your Teeth Hurt When You Wake Up in the Morning?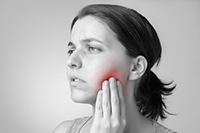 Do you notice tooth pain when you get up each morning, but then as your day goes on, the pain subsides? This could be due to sleeping with your mouth open each night.

Not only does this dry out your mouth and your throat, but it also leaves you at much higher risk for cavities.

If you have been sleeping with your mouth open, you need to make sure you see your dentist often enough to combat the problem and keep your teeth healthy.


The Problems with Open-Mouth Sleeping
When you sleep, your body produces less saliva, which is why you do not need to swallow spit every few seconds all night long. However, it still produces some to help keep the acid levels in your mouth low enough to not cause decay.

If you sleep with your mouth open, your breathing dries up what saliva that your body has created, leaving your teeth exposed to problems.

This can cause your mouth to dry out, your throat to hurt, and your teeth to ache each morning when you get up. As you get up and brush your teeth, then drink and go about your regular routine, your mouth gets moist once more and your teeth start to feel a bit better allowing you to forget about your morning pain.

Don't let morning tooth pain become an issue that you forget about until the pain doesn't stop. Go in and see your dentist every six months like you should, and go in an extra time if you notice that your teeth hurt when you go to get out of bed.

The more you have your teeth checked, the healthier they are going to stay, and the less issues you are going to have going on in your mouth that you and your dentist are unaware of until they become big problems.

Please contact us if you have any questions about your teeth pain.